Listen to Julie Murphy interview me for KSQD radio's the Hive Poetry Collective in Santa Cruz, CA. 
Past Readings: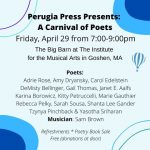 January 28, 2022. Santa Cruz Writes' Zoom Forward, with Paola Bruni. Audio recording.
January 20, 2022. Stockbridge Library "The Refuge of Witnessing" Series –a conversation on craft interpersed with poems of mine and others' work.
Monterey Bay Poetry Consortium reading with Paola Bruni
Stockbridge Library "Medicine for the Soul" Series
Catamaran Literary Reader Virtual Launch Spring 2021 issue (my reading begins at 25:51)  
Poetry is Bread distance reading series curated by Rhode Island Poet Laureate, Tina Cane
"Cutting Corners," "Flamboyance," "Lamps," and "B: The Road Home" read on Kai Coggin's Wednesday Night Poetry.
Past appearances have included featured readings at The Carl Cherry Center for the Arts focused on the work of Emily Dickinson, Sylvia Plath and Muriel Rukeyser, the Robinson Jeffers' Tor House focused on the work of Una Jeffers and Edna Saint Vincent Millay, the Henry Miller Memorial Library in Big Sur, CA, Bookshop Santa Cruz and In Celebration of the Muse in Santa Cruz, CA, Gallery of Readers Series and Northampton Poetry Slam in Northampton, MA, Monterey Peninsula College and the Rubber Chicken Poetry Slam, Monterey, CA, and Love Letters of Lynchburg in Lynchburg, VA.